What's your next big move?
You're on a mission to create a sustainable and rewarding business in book publishing you love and I'm here to provide you with the tools and opportunities you need to do exactly that.
"Dear Claudia, This is the first sincere, not formal and so spiritual thanking letter…we have received. We appreciate…this attitude! I do think publishing is about more than just business and profit. And actually, all businesses should have a social role in mind. Thank you for the personal and very encouraging letter! Will be in touch again soon!"

Katalina S. | Literary & Film Agent | Bulgaria
---
"Thanks for all of your Monday morning motivational emails."

Michael C. | Author & Publisher | USA
"I always look forward to your optimistic emails. Stay so confident and positive. "

Silke F. | Foreign Rights Licensing | Germany
"You're a delightful person and I'm sure you deserve all the success you had over the years."

Eduardo C. | Author | USA
---
Love Letter To Bookworms

Want to step up and promote your biz more caring, more generous and more creative?

Want to get strategic insights for your business and build a relationship first?

Want more joy, creativity and passion in your work day and make money doing what you love?

Want to boost your small biz with uplifting ideas and positive content?


---
Get the only E-Mails
full of love, support and encouragement.
---

You get my best strategy tips, tools, products and services for YOUR creative business so you can focus on the long game.
Here's a peek inside:
Want to accomplish a big goal?
How To Market Your Biz On A Shoestring Budget
Digital Resources That Offer Quick (And Often Cheap) Ways To Get You Started
10 Money Making Facts About Email Marketing
---
Stuck in a negative thought loop?
This Won't Last! Update On The Current Global Book Publishing Business (September 2020)
Scared, confused and overwhelmed? Help inside! (COVID-19 Corona Pandemic Support)
How To Stay Grounded In Uncertain Times
How To Feel All High About Yourself And Your Biz
---
Can't make a decision?
How To Set + Achieve Your Annual Goals
The Power Of Selling And Buying Book Rights In Publishing
---
Want more customers to say, "YES, please!"?
How To Add Value To Your Marketing
How To Get More Traffic, More Conversions, More Buyers
---
My Love Letter To Bookworms (CLICK HERE to join TODAY.) brings you the best of what I've learned over the past 9+ years of being an entrepreneur, and you have an enormous opportunity to catch it all, so you can supercharge your focus to create your best work.
You're in?
---
"This incredibly well-written guides exceeded my expectations: clear, concise and easy to understand. Chapeau! Your guides have become my favourite resources, that I use in my daily business. HIGHLY (!!!) recommend it."

Ruth Ch. | Freelance Translator | Germany
---
Digital Office Survival Guide For Creative Entrepreneurs
How to set yourself up to thrive no matter what's going on in the world by adding tried and true digital tools to your business.

Launching and running a business in today's globalised online world means endless to-do lists and ever-looming deadlines and brilliant online marketing.

And the very real fear that you might just forget the most important things and screw up your publishing adventure.

---
Imagine being able to automate work tasks…
---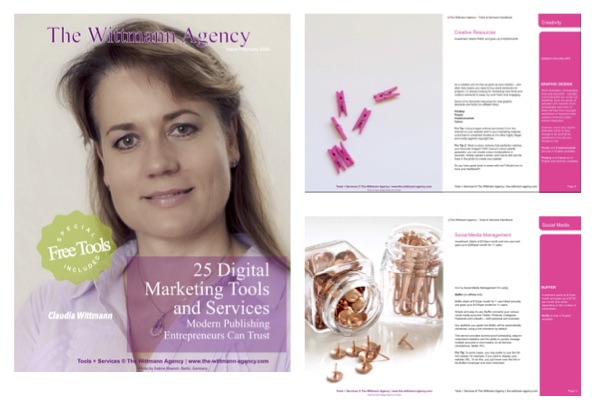 Are you overwhelmed with marketing your creative business in today's digital age?
What if you're not ready yet? Not tech savvy enough? What if you have less experience than the next person?
That's why I've created The Wittmann Agency's guide
25 Digital Marketing Tools And Services Modern Publishing Entrepreneurs Can Trust
In this FREE eBook, you will learn
how to use 25 safe and tried-and-tested tools, apps, software and services to manage your daily business in a digital world.
I'm a firm believer in using well-supported, tried and true tools and software, which are safe and meet all requirements of international, European and often more strict German rules and laws.
For you, I made a list of the tools and services I use, and tell you why I use them, what they cost and what I do to save money.

#1 Accounting + Getting Paid
#2 Marketing + Newsletter
#3 Creative Ressources
#4 Social Media Management
#5 Promotional Material
#6 Keeping Organized
#7 Scheduling & Planning
#8 Web Storage & File-Sharing
#9 Web Hosting & Domain Registration
#10 Web-Based Communication
Just CLICK HERE and you'll get my guide, saving you time, nerves and and money.
Ready?
---
"Hello again, Claudia. My thanks for your workbook. Most helpful."

Dan B. | Author | USA & France
---
Is your creative business invisible online? Here's the cure!
Get my workbook and save yourself tons of headaches.

5 Mistakes Even Smart Publishing Professionals Make And How To Fix Them is for people who want to make an impact online and avoid these 5 most common pitfalls.

I promise you will see results (I've been there…).

---
Changing these 5 things can make or break your business.
---